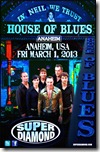 GGRRRR!!! WHEN does this become 'bait and switch'?
The House of Blues Anaheim website has the price for Super Diamond listed at "$20" for the show on March 1st, 2013 – but when you click the "Buy Tickets" button, the ticket suddenly jumps to "$29"!!
I'd love to go see these guys, but not sure I want to pay a $9 service fee… for that matter, I don't want to pay a $2 service fee – why can't they just list the frickin' price as the ACTUAL price!