Memories of my friend Rod Duff.
He passed away at 1:15am on March 30, 2013 in Lancaster, CA.
Photos on Facebook: www.bit.ly/RodDuffMemories
Services will be held on April 6th, 2013 at Joshua Memorial Park in Lancaster, CA – www.DignityMemorial.com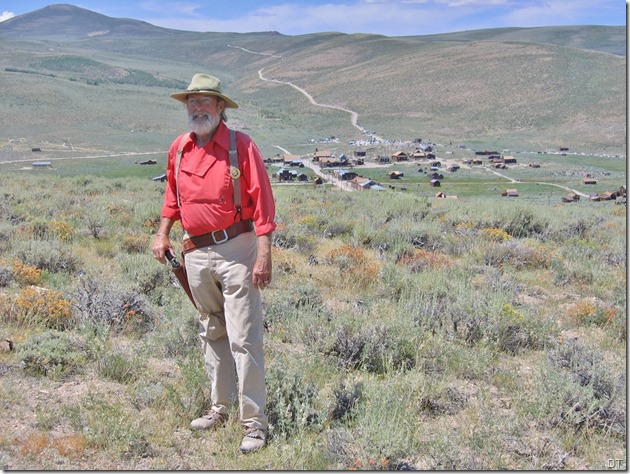 ---
Former Disneyland engineers reminisce
04-30-2005 Antelope Valley Press
PALMDALE – How many people can say that the highlight of their career was working with Walt Disney?
Rod Duff can.
The Quartz Hill retiree spent 15 years as the supervisor of MAPO, Disney's manufacturing and production organization, based in Glendale. Duff began working at the shop in 1965 and was "lucky enough" to interact with Disney for about a year before the famed theme park creator died in December.
"He would come into our shop all the time and oversee our work," Duff said. "What a real gentleman. I remember when I first started, I was working on a skull for one of the figures and it wasn't going well and he just looked and he said, 'Well, why don't you just take that apart and start over again and make it work the way you want it to?'
"He was like a dad. He was just like a father. He was always 'Walt.' He was never Mr. Disney. He would correct you if you called him Mr. Disney."
The engineers and designers of MAPO were responsible for manufacturing and assembling the various elements of the attractions at Disneyland, Walt Disney World and the company's overseas theme parks. They created vehicles for the rides, skins and "tooling" for the park's animatronic figures and "anything to do with fiberglass," Duff said.
Jim McClain of Lancaster also worked at MAPO, from 1967 to '78. "Everyone thinks (the rides were) made at Disneyland and Disney World," he said. "No, u-uh. (We) built pretty much everything for Disney World."
Among the many attractions Duff and McClain worked on: It's a Small World, Pirates of the Caribbean, the Haunted Mansion, Great Moments with Mr. Lincoln, the Bear Country Jamboree, Space Mountain, Big Thunder Mountain Railroad, the Matterhorn, and the now defunct Submarine Voyage, Carousel of Progress and America Sings.
The most challenging attraction was the Haunted Mansion, McClain said. "It took two years to build it. It was the hardest ride. It fooled everybody what was going on in there."
Duff agreed. "There was a lot of figures in there, a lot of effects that we had to develop, that sort of thing. It was just an intriguing batch of work we did. There was nothing cut and dried. We reinvented the wheel every day, basically."
McClain recalled building fish and giant squid with 20- to 25-foot-long tentacles for the Submarine Voyage. He also reminisced about testing the vehicles for Space Mountain on an experimental track built around the MAPO facility.
The first time the cars ran, they flew off the track because they were going so fast, McClain said. The engineers slowed the ride down, but when they tested the cars indoors, they found the roller coaster was still too speedy.
"In the dark it was different than the outside, where it was light, and people got sick," McClain said. "They heaved."
One of the perks MAPO employees enjoyed was free tickets to Disneyland several times a year. Duff and McClain visited the theme park frequently with their wives and children.
Because his kids were young, "I had to go," McClain said. "I didn't want to 'cause you're with that place six days a week … and then you have to go to the park and see the same things."
Now he visits Disneyland with his grandchildren and is constantly reminded of how much the park has changed.
"A lot of the nice rides we made back then they've torn down and thrown away," he said. "That's criminal."
Duff also occasionally goes to Disneyland with his family.
"A lot of times the kids don't like to go with me because I'm picking holes in things," he joked.
He said he thinks Disneyland has remained successful because it was forged around a unique concept. "The initial concept of the park is really timeless. It's the Magic Kingdom and they have kept up a lot of that Magic Kingdom feeling in the park itself. It's a place to go back in your childhood."
Duff moved from Monrovia to the Antelope Valley in 1972. After his retirement from MAPO, he took a job with Sequoia Creative, a company formed by several ex-Disney employees. They created animatronic figures and elements for various theme park attractions, including the massive King Kong figure featured in Universal Studio's Backlot Tour.
McClain left MAPO in 1978 and moved to Nevada, where he opened his own business. He relocated to the AV in 1986.
Both Duff and McClain said they still miss MAPO.
"I loved it," McClain said. "It was Imagineering. You had to use your brain because nothing was built, nothing was like that and we made a lot of mistakes and we'd go back to square one and rectify them. I still wish I was there. It was perfection personified. Everything had to be perfect. That was the way Walt wanted it."
"It was great," Duff agreed. "It was truly a joy to work there. I went to work every morning and just felt good."
---
February 22, 1977
Mouseketeers Scott and Mindy join Rod Duff and the members of the Wind Drifters Hot Air Balloon Club for a Mouseketeer adventure special about hot air ballooning on episode 27 of The New Mickey Mouse Club.