The DJI Phantom '1' is the best quad for the price! It's ready to fly (after a battery charge) and so smooth! I've flown a few other quads and I just love DJI's setup – especially THIS version/model. I already owned a GoPro (so I can use the camera for other things – not JUST on the quad.) So overall, at $479 (November 2014), this is a great price.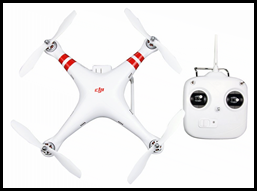 This is a great quad for the beginner who wants to get more serious – and for someone like me who's flown single and dual-rotor helis for many years.
I will say though – this is NOT for kids. You have to have good self control and awareness of your surroundings to fly this, otherwise you'll lose it or break it. These are high-powered motors that will seriously hurt you (or others) or damage property if you're not competent and careful. But don't let that scare you… this is a fun toy! Buy one!