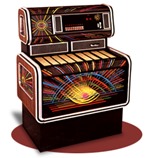 When I lived in Redmond, Washington, sometime around 1997, I picked up a used (and broken) 1979 Wurlitzer X200 jukebox. It was 40" x 53" x 26" and could play 200 45 records. Pretty cool… but again, it didn't work. And I had no idea how to fix it, but I thought it would be a fun project and would be really cool if I actually got it to work. One of my room-mates at the time, Dennis, was interested too, so we got to work cleaning it up and trying to figure out what
made it tick and what it would take to get it playing music again.
I took these old photos with my Olympus D-300L digital camera, so the quality isn't great, but it's fun to look back at the project when it started… and actually finished. Around the same day.
---
Due to lack of knowledge and experience, the Jukebox project died. It was a beautiful cabinet though, and it stayed in the play room for a long time. Then I saw a Craigslist post looking to trade a pinball for a jukebox. I contacted the person and explained the situation with the juke. In the end, I traded the jukebox plus $300 and got my first pin.
Now, part of the issue with the Space Shuttle game was that it also wasn't working. The previous owner didn't know what was wrong with it and had no hints on how to fix it. But it did power up, light up and looked beautiful! I was very happy with the trade/buy.
Like the jukebox, the pinball sat for a while. It looked great, but it was sad not to see it play. I did what I could by cleaning the table, buying new rubbers and balls, tracking down a manual (which included the schematics) and replacing whatever I could that was obvious and might help get it closer to playing. The pin moved to my new condo and sat there for a while, teasing me, but looking great. Until one day when Raymond Fowkes stopped by for a visit.
Raymond is a real EE (Electrical Engineer) who learned EE first, then went into software development. So when I explained that the cabinet would power up but I couldn't get anything else to work, he started looking at it with EE eyes. I sho
wed him the manual and he flipped to the electrical diagrams, then went to his car – where he had a multi-meter. He started taking measurements and asked for a pencil and paper and started doing math. Just watching him was incredibly exciting, regardless of the outcome. I was truly amazed to see him reading a schematic, measuring electronic readings and calculating numbers to see! Here's a guy who has never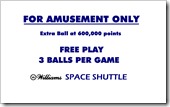 worked on pinball machines, but is able to decode the "mysteries" of an electronic game!
After a short time scribbling numbers on paper, he said he's be right back. He drove home, got a soldering iron and some resistors and came back with an idea. A few more calculations and he found a specific resistor, unsoldered it, then took two resistors that he had brought, soldered those together and put them in the holes where he just removed the other one.
We cleaned things up to make sure there was nothing that could cause shorts or other electrical problems and powered it up. WOW!! The game suddenly came to life!!! The sound started playing. The table ran through its hardware checks and the demo mode started up! I was literally jumping up and down with excitement! Raymond had fixed this thing on a whim. It was incredible to me. It still is incredible to me. He's a smart guy. :)
Here's the photos I took while he was doing his thing. That pinball gave hours of fun – on free play – for a long time. The only reason I sold it was because I sold the condo and moved back to Southern California. I do miss it though.