Equipment
Ingredients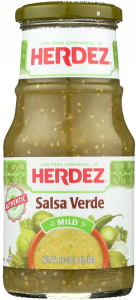 Directions
Put a little of the Salsa Verde in the bottom of the Instant Pot. Enough to cover the bottom.
Put both of the frozen chicken breasts on top of the Salsa Verde.
Pour the remaining Salsa Verde over the frozen chicken breasts, making sure to cover the chicken with salsa.
Cover, and set the lid to SEALING.
Cook on HIGH PRESSURE for 24 minutes.
When the timer is up, QUICK RELEASE the steam.
Move cooked chicken and salsa to a temporary container. (OR, if you have a 2nd Instant Pot liner for rice, just set the liner with the chicken aside, and make the rice in a 2nd liner pot.)
Rinse the rice well, until the water is clear, then strain the rice from the water.
Add the rinsed Rice, Water, and Salt to the Instant Pot, close the lid and set to SEALING.
Hit the RICE button on the Instant Pot, and cook.
When the timer finishes, NATURAL RELEASE the steam (about 10 minutes,) then fluff the rice.
Cut/chop the chicken into bite-size pieces (or, use a large mixer or forks to shred the chicken.)
Combine the cooked Rice, cooked Chicken and Salsa together.
Serve and eat.