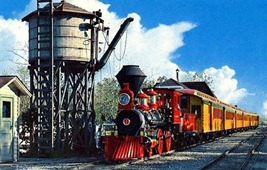 A few years ago I imagined Disneyland converting one of the Disneyland Railroad locomotives into a "Holiday" train. I also have pictured Engine #1 C. K. Holliday, which is portrayed as a wood-burner, as having wood and logs on the tender to complete the "show" for that locomotive.
The C. K. Holliday was one of the two original locomotives built by Walt Disney for the park. It was the "freight" train, while Engine #2 E. P. Ripley was the passenger train. #1 had the cattle cars and were painted the dark red that's commonly seen on old freight cars; while #2 had the bright yellow paint.
#2 E. P. Ripley has a 'straight' smoke stack, indicating that it was a coal or oil burner. Since coal or oil burned and only left smoke behind, the stacks were just used to vent the boiler. Wood burners had the 'diamond' smoke stack and usually had a screen over the top of it. The diamond shape allowed wood embers to float around inside and extinguish before floating through the mesh – the main reason for this was to reduce the chance of setting fire to the grasslands and forests that those locomotives travelled through. Being that wood was so accessible in the West, and coal or oil was not, many of the west coast locomotives burned wood, so many had to have that diamond stack to protect the environment to some degree.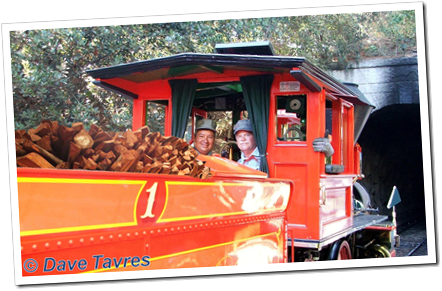 So, back to the Disneyland Railroad… the "show" at Disneyland is obviously superb. Disney's attention to detail includes matching costumes to the correct era, matching flora and fauna to their surroundings and even making lights fit into each "land". So, why hasn't Disneyland added that one final touch to Engine #1 C. K. Holliday? I think Disney should spend a few more bucks and give tender the finishing touch…