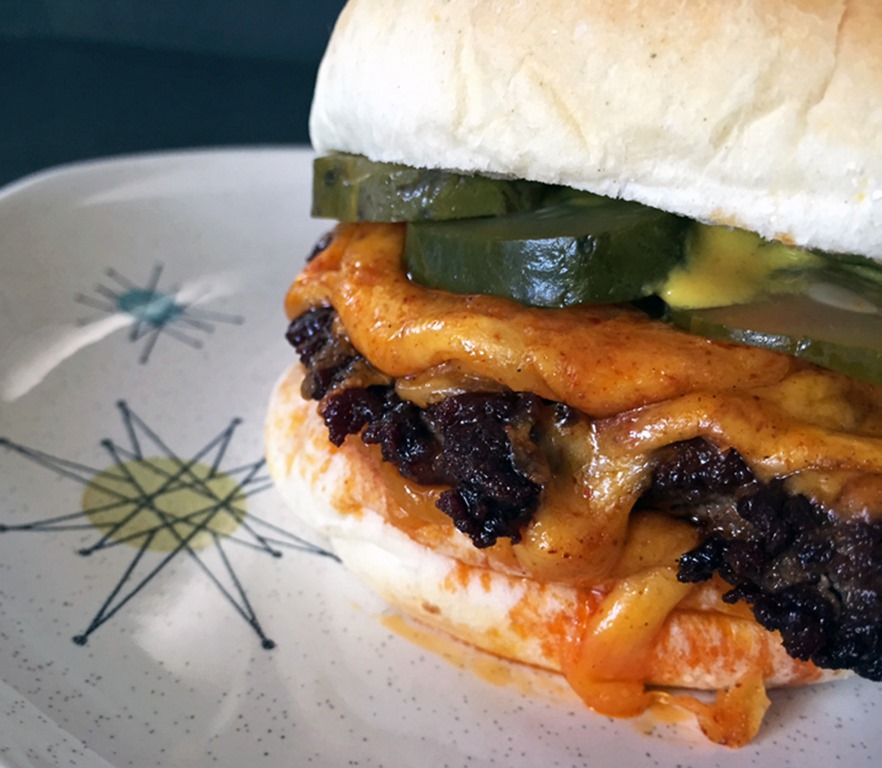 Alton Brown Cheeseburger Recipe
Ingredients
6

tbsp

Ground beef*

~3 ounces / 88 grams

2.5

tbsp

Grated cheddar cheese**

1.25 ounces / 38 grams

1/4

tsp.

Smoked Paprika

1/4

tsp.

Garlic Powder

1

Hamburger bun

OR, soft Kaiser roll

5

Dill pickle slices / "chips"

Oil Shortening

for frying

Mayonnaise and mustard
Directions
Get a nice big dutch oven and add enough oil or shortening to be two inches deep. Install your fry/candy thermometer to the side of the pot and crank the heat to medium high. Your thermal destination is 320 degrees.

Turn on the broiler and position the rack in the top position. This is a perfect time to use your toaster oven if you have one.

Weigh out the meat portions for however many burgers you want to make. Roll into balls and set aside. Do not refrigerate.

Grate the cheese. Toss this cheese with the spices until all the powder has stuck to the cheese.

Place a thin layer of mayo on the bottom of the buns. Place half the cheese mixture on top of this. Spread mustard on bun tops and place the rest of the cheese on this. You should have half the cheese on the bottoms (on mayo) and half on the tops (on mustard). Place these under the broiler so that the cheese will melt as you cook the burgers.

When the oil hits 320 degrees, place one of the meat balls on an upside-down sheet pan. Dip a wide metal grill spatula in the hot fat then use it to smash and spread the meat ball out into a 5 to 6-inch-wide disk. It will be irregular around the circumference and that's good as all those irregularities will become crunchy goodness. The meat will also shrink by a couple of inches.

Gently scrape the patty/wafer off the pan with the spatula and gently drop into the fat. Cook one minute, no more, no less. You can cook up to three patties at a time, but watch the fat temp and don't let it drop to under 300 degrees.

Remove the meat to a paper towel to drain briefly, then place it on the bun bottom right away. Place the pickles on top, then the bun top.

The goal: bread/mayo/cheese/meat/cheese/pickles/mustard/bread.

Consume or wrap in foil and hold for up to half an hour.
Notes
* Most look for a ground meat that's no more than 80 percent lean.
** I like to use a mixture of sharp and mild cheddar cheeses.
***Believe it or not, as long as you keep the oil between 300 and 325 degrees, this will be the most un-greasy burger you've ever enjoyed.