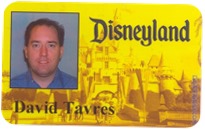 10 years ago today, November 2, 2003, I started working at Disneyland. It wasn't long-lived. Only a few years. But they were fun years :)
I started as a RO (ride operator) at Autopia (not Auto-topia) where I learned to ride and drive the cars from the running board, that I guests (and cast members… and leads) can hear you from the Tomorrowland Monorail station when you use the loudspeaker from the Auto3 position… I learned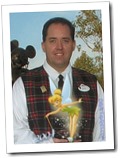 how to 'theme' your safety spiel and pretty much anything you say to guests… I learned what Disney magic was… I met and had a good conversation with Richard Sherman and I learned that you should never clip a car that's still running. Especially not during the final 10 minutes of your shift just before you transfer departments.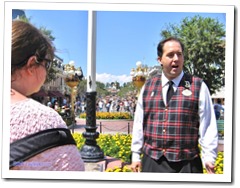 I went on to my purpose for applying at the park and moved to Guest Relations to become a Tour Guide. I met some wonderful people… and encountered many others who had graduated high school but who had forgotten that fact. I learned "A Walk In Walt's Footsteps" tour where I got to share 3+ hours of history and stories about Disneyland and Walt Disney. My love of Disneyland history developed more than I would have imagined and I spent far too much time reading, learning and researching the history of the park. I was fortunate to become a host for Walt's Apartment where I spent many 8 hour shifts waiting for special guests to come use the space, while I just sat, napped and read – in the same space where Walt once did the same things. I gave a WiWF tour on 5/5/05, trying to squeeze down Main Street with 20 guests. I gave a WiWF tour on July 17, 2005 – the real 50th anniversary of Disneyland.
My final sidetrack at the park took me to the Disneyland Railroad. What a dream! Not only did I learn to operate a real live steam locomotive, I got to play with Walt's train set. I met some great guys in the roundhouse (and a few who had graduated high school MANY years before – but who had forgotten that fact! LOL) I got to work on all five engines, wearing the stripes and the red handkerchief, the greasy gloves and black boots, I got to throwing the flaming wick into the small firebox and draw water from the New Orleans Square water tower… I learned how to hold 150psi pressure even while taking water (unless someone pulled the engine over, putting out my fire and covering the boiler and cab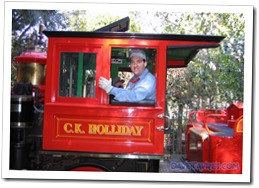 in black gunk!) and I learned how to clean and polish a steam engine every night at 1:30am with a rag and a bottle of 'Brite Boy'.
I'll never forget my time at Disneyland. I really did enjoy my guest control shifts for Fantasmic! and found the 'industrial engineering' shifts very interesting (counting guests, tracking time for load, unload and everything in between). I so loved coming in early for a 8am shift so I could walk around the park when there were no guests and most of the maintenance crews were done… when things were still lightly covered in dew and there was sometimes even a little fog left before the sun came up to burn if off. I loved wiping down a locomotive a bit quicker that I should have so I could explore the park late at night after all the guests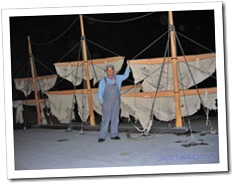 were gone… walking through the Indian Village, over the old 'Pack Mules Through Nature's Wonderland' bridge, walking into the closed off tunnel across from Big Thunder Mountain Railroad, into an empty Pirates of the Caribbean when it was under refurbishment and on top of the building where the old sails use to hint at a larger port behind NOS.
10 years goes by fast. So did my time at Disneyland. But I'll never forget it and I'll always be proud to have worked there while the feeling of Walt Disney and his presence still give the park wonder and magic.