Long ago eBay decided that they could send you numerous messages to your account, but chose to NOT allow you to respond to those messages.
When I got the email below, there was no way to reply or figure out what's going on with the account – except to call them during business hours. I finally did find a phone number (866-961-9253) and reached the "security department", but they insisted that my account had not been hacked – even though the email says that my account has been associated with another account!
When calling eBay during business hours, it has been reported that the hold times are 2 hours or more. So, even though *I* didn't make any changes to my eBay account, eBay says that my account has been associated to another account – but eBay don't consider it fraud. ?? WHAT??!!
Well… thanks to someone at About.com, here's a way to contact eBay via email (although I don't know if it actually works, or if they'll respond!)
And here's a direct link to the tool on eBay.
So much for "customer service" at eBay.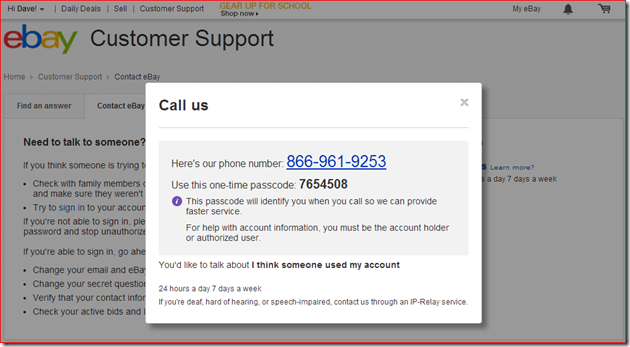 ---
Dear bodie-com,
Based on your account information and activity, it looks like user ID therepairmanus is associated with your account. This usually indicates that both accounts belong to the same person.
Because the other account is restricted or otherwise not meeting minimum seller standards, we've changed the amount you can list on eBay.
You can now sell up to 15 items or up to $1,500.00 per month, whichever comes first. After 90 days, we'll reassess your account and may increase your limits based on your selling performance. You can also increase your limits sooner by resolving any open issues with the associated account. We've already sent instructions for resolving these issues to the email address registered to that account.
— Related help links —
Thanks,
eBay
Please don't reply to this message. It was sent from an address that doesn't accept incoming email.
---