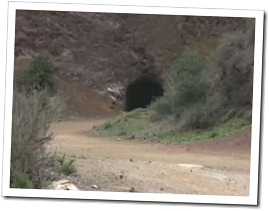 Batman's lair, "the Batcave" from the 1966 TV show is actually Bronson cave in Griffith Park! It's man-made, probably created back around 1900, when the area was a rock quarry. (Some say the cave was created especially for the 1922 version of "Robin Hood" with Douglas Fairbanks.) But whatever the origin, the cave has been used in countless movies and TV series. It was seen as the 'Bat Cave' in the classic "Batman" TV series, as well as in "Wonder Woman", "Bonanza," "Star Trek: Voyager," "Fantasy Island," "Little House on the Prairie," "The Lone Ranger," "Gunsmoke" and "The Wild Wild West". Plus feature films such as 2002's "The Scorpion King," "Star Trek VI: The Undiscovered Country," "Lost Horizon" and the original "Invasion of the Body Snatchers."

Play with the map more and you'll see that the Hollywood sign isn't far from here either.
Anyone can take the short hike up the road and see it for yourself. Take a look at the aerial view, then scroll back and look at the overall map. Get directions to the caves here.