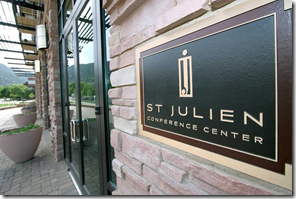 I recently attended the RallyOn! 2013 conference by Rally Software in Boulder, Colorado. Thanks to Sony, I stayed at the same hotel where the conference was being held – the St Julien Hotel & Spa. It was beautiful, inside and out.
I was on the 4th floor with a wonderful view of the Flatirons rock formations just a few minutes from the hotel. The was spacious and comfortable, the bathroom with its deep soaking tub and separate glass-wall shower and rain-style shower head was wonderful. I even 'took a tub' a twice while I was there!
Not only that, but I got to see Mork & Mindy's house! It was just a couple of blocks away from the hotel!
Room service was great and they even offered turn-down service (though I always declined… I just don't need someone to bring me ice and pull the covers back.) And apparently, I've never used a 'luffa' type sponge before, because I REALLY liked that they had one of those (along with bath salts) in the large bathroom.
I understand this is a hotel & spa and when there's snow, this place is full of celebrities and the wealthy who come to ski, rather than a place where geeks come to conference – but there were a couple things that were lacking.
A wall clock in the bathroom would have been nice. When I was soaking or even just getting dressed for the day, I would have liked a visible clock somewhere other than just the digital clock between the beds. Also, the wicker desk chair wasn't very comfortable and was difficult to move around while I was working in the room. Lastly, there could have been a better lighting arrangement. In the evening, one side of the room had enough lamps for light, but the entryway and area to the left of the clothing bureau caused me to move my suitcase onto the other bed for good light when unpacking and packing.
I also made this time-lapse video from the widow of my room…
Boulder, CO Flatirons timelapse – DaveTavres.com
Overall – beautiful, comfortable, fantastic. I don't see myself ever staying there on my own dime (unless I marry a woman from the area and we have a reception there?) Bravo to the staff, room service and valets though – they were all friendly, welcoming and willing to talk when I wanted to, as well as leaving me alone when I didn't.